【What kind of paper does Russia produce? 】
Russian companies provide more than 80% of the domestic paper product market, and there are about 180 pulp and paper companies. At the same time, 20 large enterprises accounted for 85% of the total output. In this list there is the "GOZNAK" factory in Perm Krai, which produces more than 120 kinds of paper. Existing factories, more than half of which are upgraded versions of the Soviet era, have a complete production cycle: from the harvesting of the wood to the delivery of the final product, and a wide variety of paper products. #Paper cup fan
Such as kraft paper produced from coniferous long-fiber wood. In Russia, kraft paper has long been the main packaging material. In addition, it is also used to make strong and wear-resistant paper, including corrugated paper, kraft paper bags, daily bags, envelopes and paper ropes, etc. In the second half of the 20th century, plastic bags appeared, and paper bags gradually declined, but in the 21st century, they were once again popular because of their ecological nature. You know, it only takes a year for a kraft paper bag to decompose, while a plastic bag takes hundreds of years.
#Paper Manufacturer Wholesale Paper Cup Fan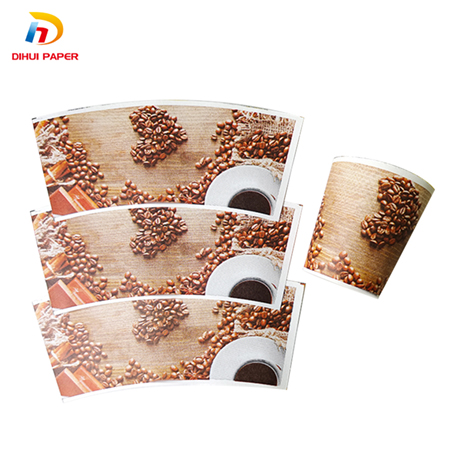 In the past two years, the demand for paper bags in Russia has increased significantly.
First, Russians are ordering more food and industrial goods delivered to their homes during the pandemic.
Second, the construction industry is growing rapidly, especially residential construction. The government has introduced preferential housing loans for this purpose, and the large amount of mother's capital has benefited the first child.Kraft paper bags are commonly used in the construction industry to package cement, gypsum and various composite materials. Kraft paper made from Russian needles is also popular abroad: exports in 2021 will reach almost $750 million.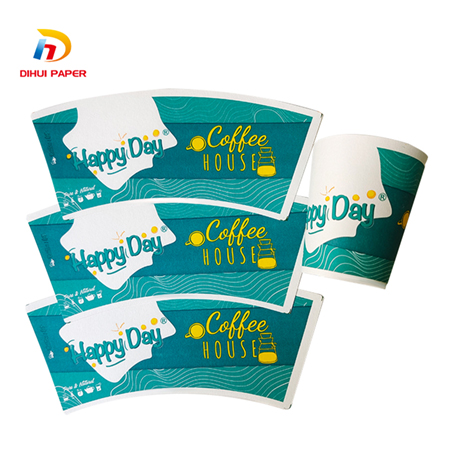 But newsprint usage in Russia is declining, as media prints shrink, a worldwide trend: people are using the internet more. Demand for coated paper for illustration has also declined, and in Russia, coated paper accounts for about 40% of the total paper used in the printing industry. In addition, it is impossible to write with ink pen on coated paper, and the special glue coating makes the ink run around. But coated paper is strong, smooth and tactile, making it popular with makers of advertising products. #paper cup fan
Despite the transition to electronic document management, the amount of paper used in offices around the world has decreased only slightly. Some countries, such as the United States, are even seeing an increase in the amount of paper used for printing and copying. Russia has the greatest potential in this area, a clear example is that per capita office paper in Russia is about 2.8 kg per year, but Finland and the Netherlands are 7 and 13 kg respectively.
Russia also produces writing paper for students, highly wear-resistant paper, paper for anti-counterfeiting currency and official documents, and wallpaper for interior decoration, among others. All in all, Russian mills can produce all types of paper, with the exception of papers with a high-quality glossy finish. The reason is that the demand for this kind of paper in the domestic market is very small, and it is more cost-effective to buy it from abroad. # PE coated paper in roll
【Competitive advantage of Russian paper】
Everyone needs paper. Humans produce and use about 400 million tons of various paper products every year, and Russia is about 9.5 million tons, ranking 13th in the world. This figure is quite small for a country second only to Brazil in terms of timber reserves.
Yuri Lakhtikov, president of the Russian Pulp and Paper Industry Federation, pointed out in an interview with the Satellite News Agency that at present, the potential of the Russian paper industry has not been fully developed. #Paper cup PE coated bottom roll wholesale
He said: "The attractiveness of this field is that, first of all, my country has a large number of forest resources and has its own raw material base, but unfortunately it has not been fully utilized. Second, the quality of workers is very high. In some families, several generations People are working in the forest industry and they have accumulated a lot of experience. These two elements show that it makes sense to make long-term investments in the Russian pulp and paper industry."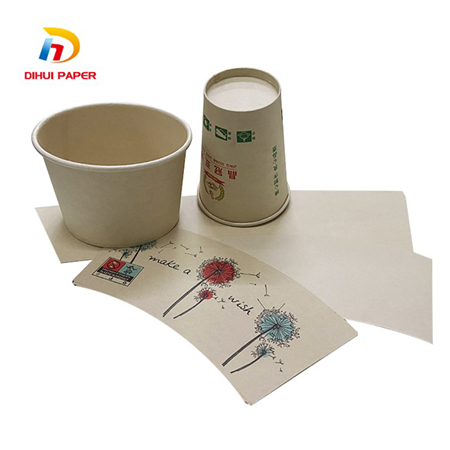 Yuri Lakhtikov, President of the Russian Pulp and Paper Industry Federation, introduced to Sputnik which Russian-made papers are selling well in domestic and foreign markets.
He said: "From the traditional export status, the most competitive packaging paper and paper shell, first of all, kraft paper and kraft paper. These products in Russia are produced with northern long fiber pulp, which is very strong and elastic. Newsprint production is also a good investment direction. Although the sales market is shrinking, newsprint in Russia is made of primary wood fibers instead of waste paper like in Western countries, so it is very competitive and has a good reputation in foreign markets. Demand. I don't recommend producing toilet paper for export, it's too light, takes up space, and the logistics cost is too high." #Craft paper cup fan
【Extraordinary paper-making projects by Chinese entrepreneurs】
China's "Xingtai Lanli" food distributor is implementing a paper production project from wheat waste in Tula Prefecture. Tula Oblast is located in the south of Moscow.
Satellite News Agency learned the details of the project from Guo Xiaowei, the head of the company.
Guo Xiaowei: Now the company is doing compliance and doing some Chinese approvals, because we have not yet filed with the Chinese Commercial Representative Office in Russia. China's overseas investment is protected by the laws of both countries. Our overseas investment requires China's foreign exchange management approval, and we have completed these procedures. But because we made the shareholders wrong, we have spent several months on this matter and are still correcting this matter. Due to the epidemic and inconvenient transportation, there are many things that cannot be notarized and are very slow, so we spent several months to complete the correction, and we will complete it after we find out. #PE coated paper cup sheet
Reporter: How many jobs can this enterprise solve?
Guo Xiaowei: We are divided into three phases of the project. The first phase will have about 130 jobs. After the completion of the third phase, about 500 jobs will be needed.
Reporter: How much is the investment amount?
Guo Xiaowei: 1.5 billion rubles.
Reporter: What about the area?
Guo Xiaowei: 19 hectares. We are now in Tula and we were given a plot of 19 hectares.
Reporter: Why in Tula?
Guo Xiaowei: Because in 2019, when the Governor of Tula Region visited China, we recommended Tula. Our original location was Stavropol. Later, we found out that Tula's transportation…because our All products will be shipped to China in the future. In China, we have very convenient transportation conditions. There is a railway in his special economic zone, and we consider that the labor wages of Tula include convenience. We think it is very suitable, so we We changed our investment destination to Tula. #paper cup fan
Oddly enough, Russia is a wood-rich country with almost half of its forest cover, but why would Chinese entrepreneurs choose wheat waste to produce paper? Guo Xiaowei explained to us.
Guo Xiaowei: We use wheat straw, which may not be very good for cultural paper. Generally, it is used as packaging paper. What we produce is packaging paper. After we are built, it should be the only paper mill in Russia that uses wheat straw as raw material. Generally, forests are cut down. We believe that from the perspective of sustainable development, I found that there is a lot of wheat in Tula region. Generally, the straw in Russia is not recycled except for feeding livestock, and it rots in the ground in vain, and we will Buying with money will also boost the income of local farmers.
Reporter: Improve the quality of life of local farmers.
Guo Xiaowei: Right! Increase the income of local farmers. Originally, these straws would not be turned into money. Now we make it into money.
According to Guo Xiaowei, if the "Xingtai Lanli" company's project in Tula region goes well, paper mills will also be built in other parts of Russia. Such as the Republic of Tatarstan, Penza Oblast, Krasnodar Krai and Altai Krai. Wheat is produced in these areas, and the leftover waste will be used as raw material for papermaking. #paper cup raw material paper cup
【Import Substitution Route】
In the spring of 2022, Russia suddenly experienced a shortage of office paper. The media exclaimed: How can a country with huge wood reserves have no products made of wood?
It turned out that the problem was a lack of bleach in imported paper. Finland joined the sanctions against Russia and stopped supplying Russia with chlorine dioxide, one of the main components of the chlorine dioxide aqueous solution for pulp bleaching. But the problem was quickly resolved, and Russia found a European alternative from some friendly country. Later, it became clear that Russia was also producing raw materials and equipment for bleaching agents. It's just that paper mills have become accustomed to using products from European partners and have not looked for alternatives at home.
#PE Coated Paper Roll For Paper Cups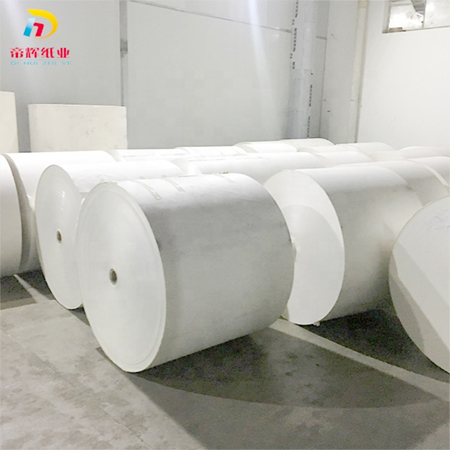 The Tambov "PIGMENT" chemical plant in the central region of Russia produces various types of liquid and dry bleaching agents. In order to cope with the growing demand, the company has increased production capacity and will guarantee at least 90% of the consumption of Russian paper companies by the end of the year. In addition, Urals and Arkhangelsk have started two production lines of optical brighteners.
One sentence is correct: economic sanctions are a daunting test, but at the same time they are also a new opportunity for development. #nndhpaper.com
---
Post time: Jul-04-2022